We are a company that will solve your roofing and exterior problems, issues or upgrades, always keeping the customers budget in mind.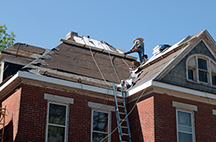 We specialize in roof repairs and installations, siding, decking, chimney repair and more.
As a company we set out with one simple goal, when we leave the job the customer is happy and know they made the right choice. With 30 years of experience on the site, we know what people want and like and what works.
Let experience work for you!
Problem Solving:
Water running in the wrong area
Water sitting on flat roofs
Drains doing nothing
Water staining the roof
Fascia boards rotting
Building out sofits and fascia's